iv drip cocktails & vitamin shots—
Replenish - one drop at a time. Available Saturdays and Sundays
Note that there are no same-day appointments for IV Drips. Appointment must be made by 12pm the prior day
Pause has partnered with, Dr. Kelly Bender, one of Los Angeles leading naturopathic doctors, to create our signature line of high vibe, premium IV Drip Cocktails + Vitamin Shots designed to encourage and amplify the benefits one can find at Pause. Many IV drips on the market lack the potency they claim. Our premium IV drips are of the highest quality, and packed with tons of nutrients and minerals, with at least 3x the potency of the average IV Drip. Our premium IV Drips will nourish your body for maximum performance, energy, and glow.
Intravenous (IV) Vitamin Drips deliver vital minerals, vitamins, and amino acids directly to the bloodstream for maximum absorption, which allows the potent nutrients to replenish, nourish, and heal your body at the cellular level.
$159 | Take your nourishment to the next level with this multivitamin megastard
This premium formula support your cells with the powerful Vitamin C antioxidant, which is the go-to vitamin for connective tissue health and immunity. With B12 included for increased energy, upleveled mood, relaxing sleep, and DNA synthesis and repair, this powerhouse will give you the boost you need to finish out your week. We've also included Bcomplex which will increase your energy metabolism and balance your hormones, while simultaneously aiding in alcohol metabolism and neurotransmitter production and detox. Finishing it off with the calming Magnesium that helps relax muscles, brings peace to the mind, and aids in stress and anxiousness, this next level combination elixir will have you feeling like you can take on the world!
$179 | Our superstar energy elixir
The genius of this IV Drip is Taurine, an amino acid that functions as a neurotransmitter, which helps build and protect the brain, offsets the effects of stress on the brain, and is vital for muscles - especially the heart! This IV has a double dose of all of your super potent B vitamins for energy, mood, sleep, DNA synthesis and repair. The premium nutrients included in this drip will help with increasing your focus, attention, mental clarity and energy!
$179 | Feeling the chaos? Dose yourself with this curated brain and neurotonic
This IV elixir is a massive dose of calming Magnesium, brain protecting Taurine, ultra calming GABA and Theanine, and B6, the megaproducer of brain-calming neurotransmitters. This patented premium combination will help relax your body and mind, taking you beyond the calm and into the deepest state of Pause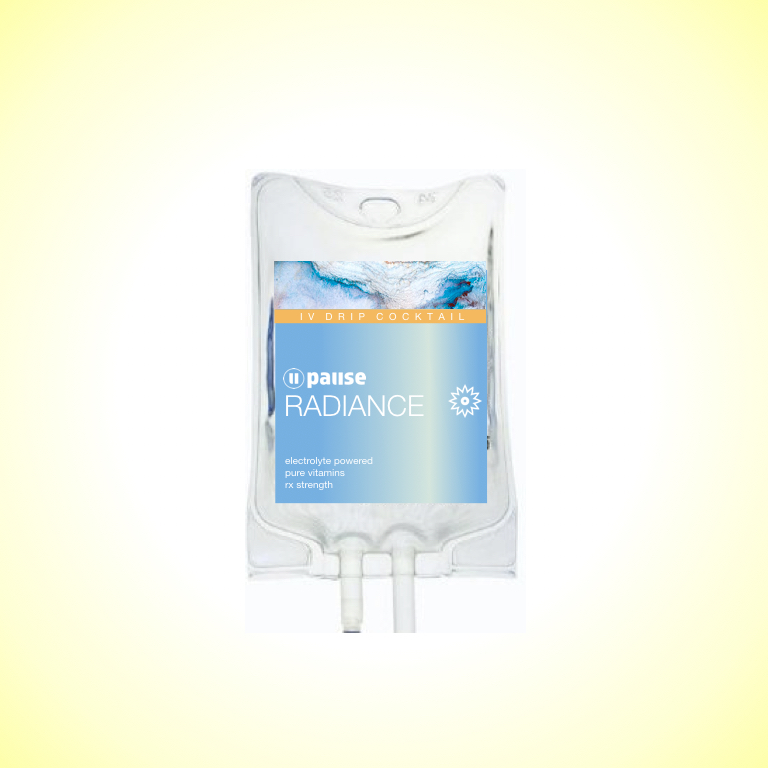 $100 | Radiate from the inside out with this powerful burst of beauty!
Glutathione acts as an antioxidant, a free radical scavenger and a detoxifying agent. As we age, we make less of this powerful nutrient that has benefits your skin, brain and detox pathways.
$159 | Feeling under the weather or just need a lil immunity support? We got you with this megadose formula
We've packed this drip with Vitamin C to help strengthen your immune system, B12 for high level energy production and relaxing sleep, along with B complex and Magnesium to support immune function and overall immunity balance. This elixir is working hard to keep you at your best!
Give your body a quick, efficient boost with vitamin shots. These convenient pick-me-ups have gained broad popularity because of their effectiveness in restoring energy, boosting the immune system, and helping mental and physical recovery.
$30 | Simple yet effective, this potent B12 boost is just what you need for added energy, better sleep, and balanced mood.
$40 | Feeling a little sluggish? Our premium Methylated B12 helps with the metabolism on a cellular level; along with the combination of Methionine, Inositol and Choline, these powerhouses aid with fat breakdown and elimination in your liver... think of it like a sage smudging for your cells.
$40 | Is your mind on overdrive? This shot merges the ultra relaxing combination of GABA and Theanine with the calming power of Magnesium and the brain protecting effects of Taurine. Take a pause, calm your mind.
$50 |This beauty, Glutathione, acts as an antioxidant, a free radical scavenger and a detoxifying agent. As we age, we make less of this powerful nutrient that has benefits your skin, brain and detox pathways. Radiate from the inside out!
$40 | This combination shot packs a potent punch for all around high vibes. B12 and B complex nutrients are included for increased energy and metabolism, balanced mood, relaxing sleep, as well DNA synthesis and repair. And if your hormones are feeling a bit off, this shot has got your back to balance them too!
Dr. Bender is a California licensed Naturopathic Doctor. As a graduate of Southwest College of Naturopathic Medicine, Dr. Bender is trained as an expert in natural medicine. After graduating summa cum laude with a bachelors of science in Pharmacology & Toxicology from the University at Buffalo and top of her class in medical school she has continued her training in cutting edge therapies. These included intravenous nutrient therapy, bio-identical hormone replacement therapy and regenerative therapies like prolotherpy from the Hackett-Hemwall Foundation. She is passionate about helping individuals optimize their health so they can live their lives to the fullest. Dr. Bender believes it is important to understand the entire person in order to facilitate healing and offers each patient an individualized treatment plan to enhance their vitality. Dr. Bender enjoys teaching others, whether it be her patients or students at various medical schools.
explore more ways to rejuvenate with Pause